As always, C2E2 was an amazing con, and Chicago, couldn't have made us feel more welcome! We got in Thursday, during St. Patrick's Day and headed into set up, which went smoothly, and staying at the HYATT next to the convention center proved to be the decision we've made yet for the show.
FRIDAY was electric, especially for a Friday. When most of the time you only get a light crowd, mostly folks trying to get exclusives and sketches done, and folks who want to avoid Saturday crowds. SO many people came in and bought out a lot of our copies including the variants like the TOMMY "HIghlander" cover, and our prints from the covers. That night I did the TRIGGER WARNING panel alongside fellow creators ,Sandy King, Enrica Jang, Wesley Sun, Jennie Wood, with Ryan Morrow moderating, which went well. I think we were waiting for some weird outburst like a last year's supposedly happened, and I think we were just such a force in bringing understanding and the importance of art to challenge the norms while balancing the idea of responsibility in your creating, that there was no where for people to showboat and steel the show.
SATURDAY went great, the crowds were huge and we opened strong. I had a morning panel, LATINOS IN COMICS with the awesome Enrica Jang, and man that was not only informative but entertaining as hell even for me doing it. The different sides where and how we grew up, between Enrica and I , became great places to draw form. All through the con afterwards, people really dug it the panel, and thnaked us for it.
SUNDAY was GANG BUSTERS BRO! We were amazed at how many folks lined up to pick up comics and prints form us on that day. We had some amazing t-shirts and some really cool work for the show and it all sold. Really it was a a manic run until the end. I'm getting tired jsut writing about it.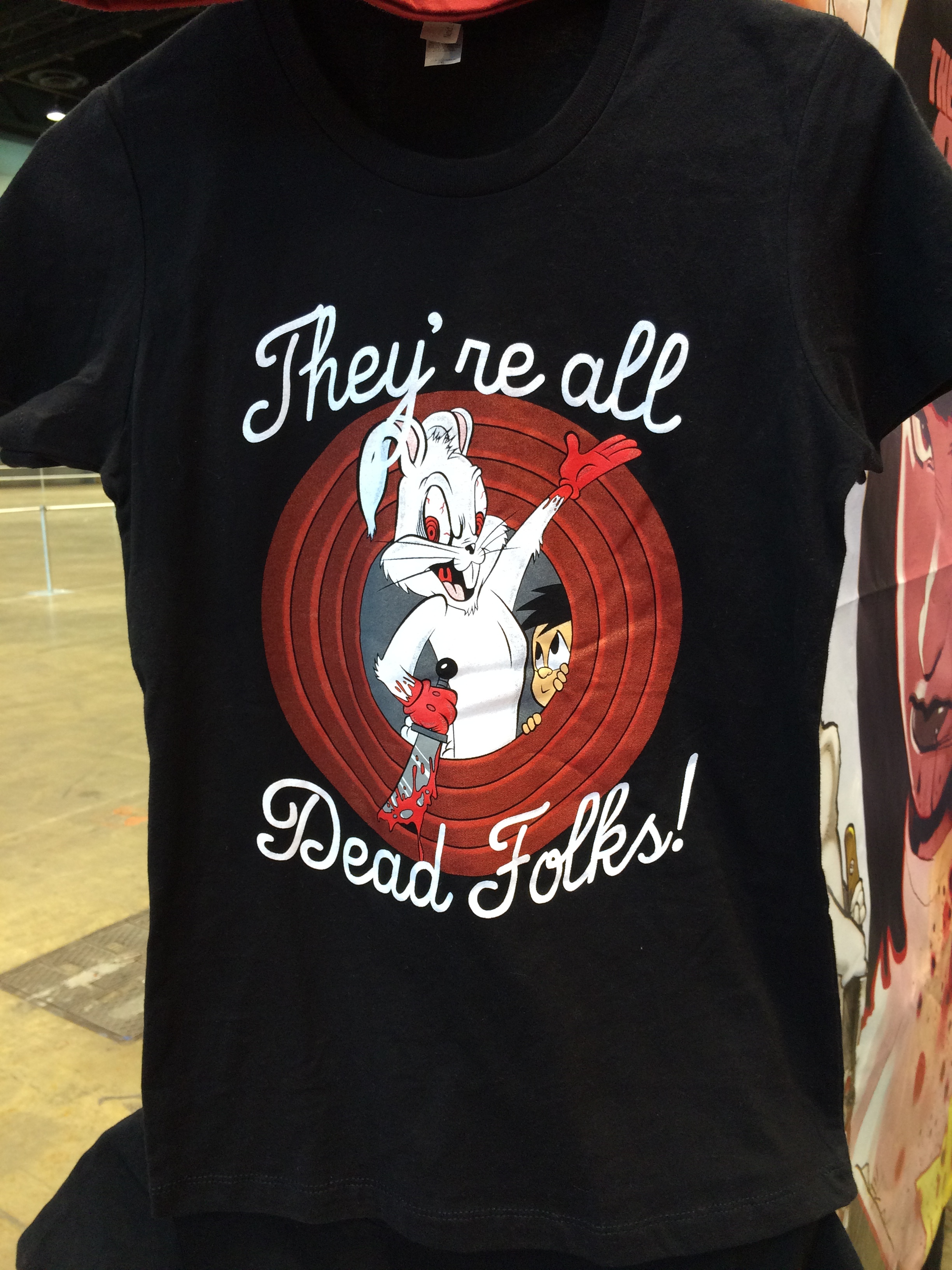 All in all it was an amazing show, we can't wait to do it again!
About the TOMMY variants:
Okay so now that we are out and about and thing have calmed down after C2E2, we
Can talk about an experiment we did recently:
On the TOMMY #1 release, we made 3 variant covers for it done by me and colored by Rob Torres (Tricks Rabbit) and Emanuel Sotomayor (both Toni the Liger and Cap'n Krunk) part of our CEREAL KILLER covers. We originally only had that but then we noticed that we had a possible 4th cover and John said it best: Pants Down Cover.
As you can see this is the regular cover, TRICKS cover:
 
And this is the "Pants Down" cover
 
notice the difference?!?
Muahahahaha

We did this under the same SKU as the regular cover, but only 100 pants down and those were randomly inserted into the total print run. Diamond, our distributor, got 50 and we have have another 50. After breaking off copies to everyone here at the company there is a total of 20 we are selling only at cons for about $50 though they are going as of this writing, for up to $166 on eBay.

We never thought doing a secret variant like this would cause people to go so nuts! We hope you guys enjoy what we're with this but also enjoy a quality comic books that came out of our insane cerebral cortexes. Cortexes? Cortexi? Cortexian? Whatever.

Be on the lookout for hints to issue 2 as we enter the next chapter in a story of a boy and his imaginary friends killing spree, and our next series of Variants, they get to have "precious moments"
NEXT STOP: EMERALD CITY COMIC CON!